Amazing Ambassadors
Specially selected, our school's amazing ambassadors are six public figures, who display our school's key values and inspire our school family. Stakeholders identified individuals for their diversity, integrity and those that link with our curriculum.
Our values are: Friendship, Aspiration, Forgiveness, Justice and Hope.
Roald Dahl inspires us to read and write, whilst celebrating FRIENDSHIP thorough the creation of his marvellous characters and their friendship with one another - Matilda and Miss Honey and Charlie and Grandpa Joe.
The ASPIRATION, that Mo Farah exhibits in his journey as a non-English speaking refugee in the U.K. to being one of the most successful track athletes of all time, encourages us to dream big and work hard. Frida Kahlo demonstrated both aspiration and determination whilst, continuing to paint despite being in pain.
Malala Yousafzai shows FORGIVENESS to those who harm others based on their gender. As the youngest ever recipient of the Nobel Peace Prize, Malala highlights both aspiration and justice.
Nelson Mandela, the first ever black President of South Africa, focuses on the value of JUSTICE, enabling us stand together to celebrate the diversity of our world.
Alan Turing, gave a HOPE to many people in breaking codes throughout World War II at Bletchley Park, motivates both children and staff alike. We learn about him in our topic 'Is conflict ever justified?'
And the end of the year, Amazing Ambassador Worship is a celebration of our children who have displayed amazing effort in improving the school community, English, Maths, Sport and The Arts, or displaying our school's key values: they receive a special award named after one of our ambassadors.
Please meet our ambassadors in a bit more detail below:
Nelson Mandela 18.07.18 - 05.12.13
Nelson Mandela is our school's ambassador for our Key Values.
Described as South Africa's "Father of the Nation", Nelson Mandela was an anti-apartheid revolutionary and South Africa's first black President. Mandela served 27 years of a life sentence after conspiring to overthrow the government following their racial segregation laws. Released in 1990, Mandela led efforts to end apartheid, which resulted in him being elected President in 1994. Following his election, Mandela gained international acclaim for his activism, receiving over 250 honours, including the Nobel Peace Prize.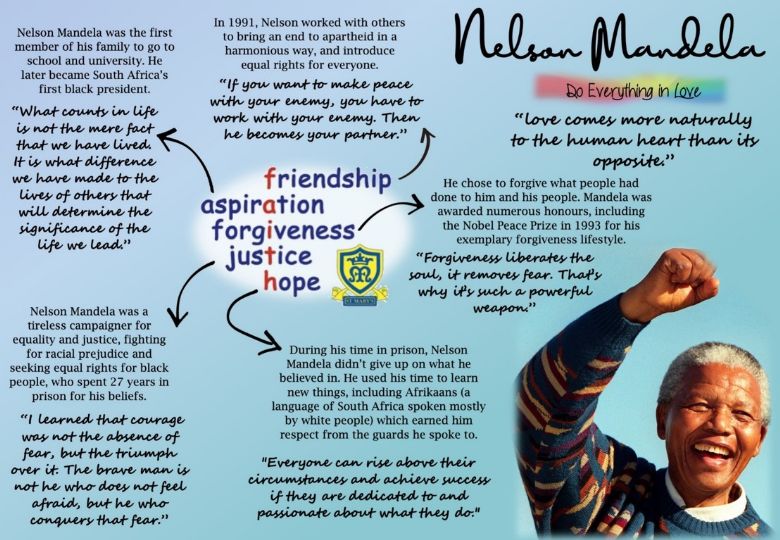 Malala Yousafzai 12.07.07 - Present Day
Malala Yousafzai is our school ambassador for community.
Malala is known for her human rights advocacy, especially in the education of women and children following the Taliban banning girls from attending school in her home of Swat, Pakistan. On October 12th 2012, an assassination attempt was made on Malala in retaliation to her activism. Following her recovery, Malala founded the Malala Funf, a non-profit organisation that advocates for the education of women. As well as this, she received the 2014 Nobel Peace Prize, at only 17 years of age.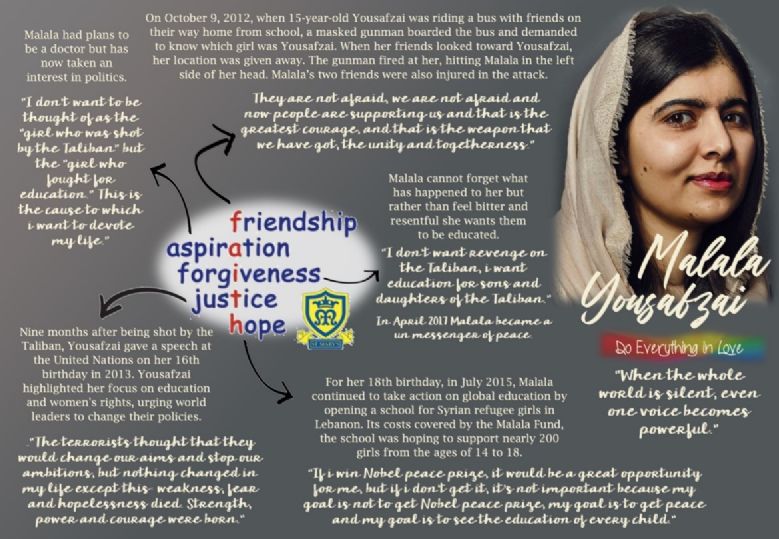 Alan Turing OBE FRS 23.06.12 - 07.06.54
Alan Turing is our school's ambassador for Mathematics.
Alan Turing was an English mathematician and computer scientist, most famous for his work for the Government Code and Cypher School, based in Bletchley Park, throughout World War 2. Turing played a pivotal role in cracking coded messages, allowing the allied forces to defeat the Nazi's in many crucial engagements. After World War 2, Turing designed the Automatic Computing Engine, which is recognised as one of the first examples of modern day computing. Sadly, Turing was imprisoned in 1952, due to being homosexual (which was illegal at the time).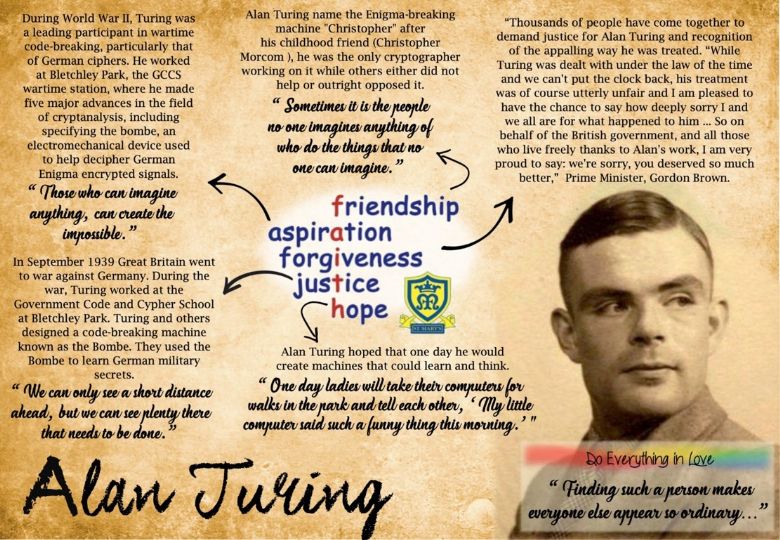 Roald Dahl 13.09.16 - 23.11.90
Roald Dahl is our school's ambassador for English.
As well as serving as a fighter pilot in World War 2, Roald Dahl has written over 30 children's books, selling over 250 million copies worldwide. Dubbed as "one of the greatest storytellers of the 20th century", Dahl's stories are known for their unexpected endings, usually featuring villainous adult enemies and championing kind-hearted child heroes. His works include: James and the Giant Peach, Charlie and the Chocolate Factory, Matilda and the BFG.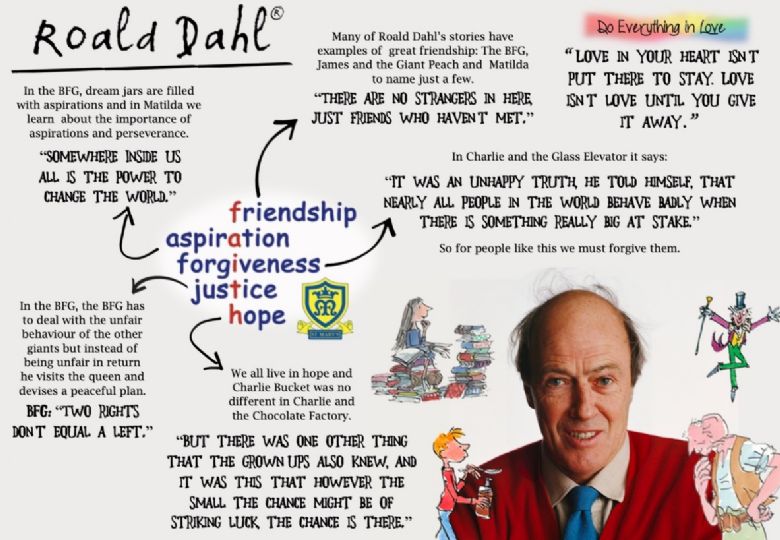 Sir Mohamed Farah 23.03.83 - Present Day
Sir Mo Farah is our school's ambassador for sport.
Born in Mogadishu, Somalia, Farah moved to live in Great Britain at the age of 8 after civil war broke out. At the age of 13 Farah joined the Hounslow Athletics Club, after his athletic talent was spotted by his School P.E. Teacher. Farah won his first major title at the European Junior Championships in 2001 and has gone on to be an Olympic Champion at both the 5000 and 10,000 meter disciplines. Farah is the most successful British Track Athelete of all time.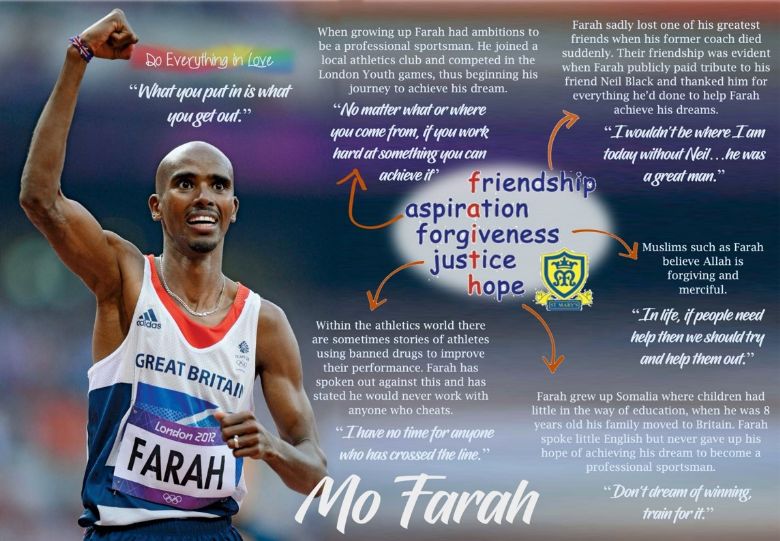 Frida Kahlo 06.07.07 - 13.07.54
Frida Kahlo is our school's ambassador for the arts.
Kahlo was a Mexican artist known for her self portraits. Her art often had strong autobiographical elements and mixed realism with fantasy. Kahlo suffered with medical illness for the majority of her life due to polio and injuries sustained following a horrific traffic accident, however, she continued to follow her love of art. Kahlo's work remained unnoticed until the late 1970's, and by the 1990's she was not only recognised for her artwork, but also regarded as an icon for civil rights, the feminism movement and the LGBTQ+ community.