Collective Worship
"Collective worship is the unique heartbeat of the school and is offered as part of a wider opportunity for pupils and adults to encounter faith by engaging in conversation about God. It should be truly welcoming, inclusive and exemplify the principles of Christian hospitality. The is an approach that seeks to meet the needs of all, wherever they may be on their journey of faith and belief." Collective Worship statement of Entitlement and Expectation March 2021
Our daily worship is intrinsically linked with our school's Christian values and focuses heavily on how to live out those values in our daily lives. We celebrate and consider significant events, festivals and faith days in a fully inclusive way. Worship is grounded in distinctively Christian teachings but respectful of the backgrounds of all within our school family. Worship is inclusive, engaging, inspirational, inclusive and accessible.
Worship is highly engaging and interactive. Pupils are actively involved in the planning and delivery of worship. As part of our continued desire to improve, staff receive training and support to ensure high quality provision which is monitored and feedback provided as part of our improvement cycle. Visits to a wide range of churches and visitors into school ensure our children are engaged in a wide range of worship styles. Children attend and are actively involved in the delivery of Mass in church.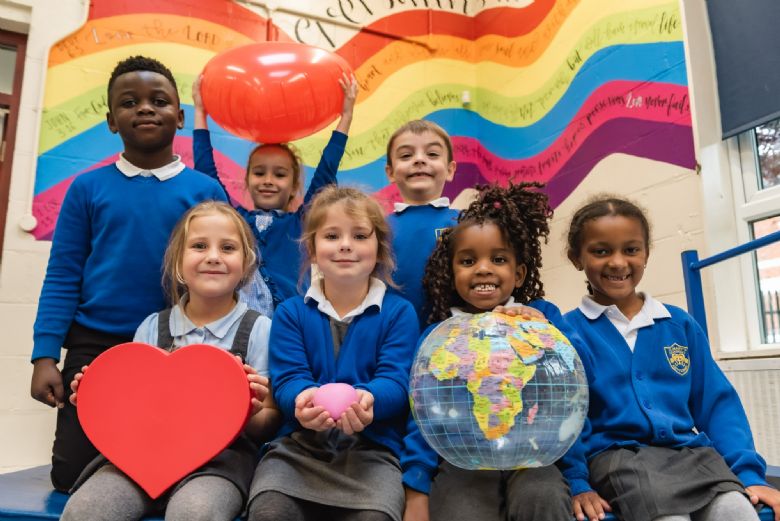 Our worship is interlaced with our five school values!
Friendship — In worship we reflect on friendship a lot. Our friendships with one another and the friendship Christians believe God offers! The Bible helps us to learn a lot about friendship, for example it is good to: "Encourage one another and build each other up, just as in fact you are doing." 1 Thessalonians 5:11.
Aspiration — We really value aspiration in worship and striving to be the best that you can be. The Bible also encourages us to: "Run with perseverance the race marked out for us, fixing our eyes on Jesus, the pioneer and perfecter of faith." Hebrews 12:1-2.
Forgiveness — Of course forgiveness is a huge part of our learning in worship. Christians believe must forgive others the way that God forgives us. For instance the Bible tells us to: "Be kind and compassionate to one another, forgiving each other, just as God forgives you." Ephesians 4:32.
Justice — Justice is always valued in our worship and is important through all 66 books of the Bible: "For the LORD loves justice and will not forget those who believe in Him." Psalm 37:28.
Hope — Our final value, hope, is so important for Christians, and we make lots of reference to hope in our worship. The Bible says that Christians "Have hope as an anchor for the soul, firm and secure." Hebrews 6:19.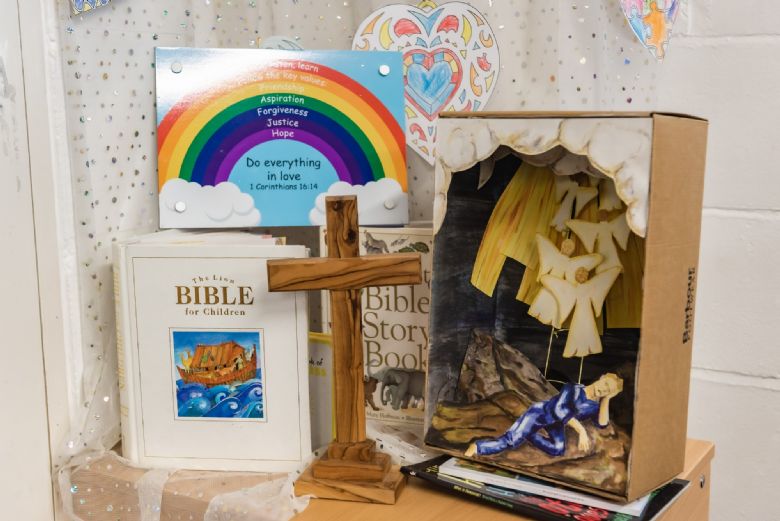 We have adopted the Windows Mirrors Doors approach which we encourage as part of our daily collective worship.
Windows: Opportunities to look out on the world to gaze and wonder: The Wow and Ows moments. The things we find amazing and bring us up short. Encounter: The learning about life
Mirrors: Giving opportunities for children to reflect, to look inward to consider some of the big questions of life: To explore their own insights and those of others.
Reflection: The learning from.
Doors: Giving opportunities to children to respond, to do something to go through the door of a creative expression of their own thoughts and convictions.
Transformation: The learning to live by putting into action what they believe.