School Meals
All children in Reception, Year 1 and Year 2 are currently entitled to a free hot or cold school lunch.
Should you choose to take up this entitlement, your child will receive a hot, nutritious meal each day. For those children not having a hot lunch, it will be necessary for parents to provide them with a packed lunch.
You can log onto your School Grid account to order your child's meal by clicking this link:
https://www.live-kitchen.co.uk/
Parents of children in years 3, 4, 5 and 6 can continue to purchase hot or cold meals for their children if they would like to, and it currently cost £2.66 a day. Hot meals will still be available for children in these year groups who are entitled to Free School Meals. If you believe you are entitled to Free School Meals, the document below will give you further information and how to apply.
We encourage the children to bring a healthy packed lunch. Research shows that a good balanced diet leads to better performance and concentration.
We ask that:
Packed lunches should be brought in a lunch box or plastic container with a secure lid and labelled with the child's name. Please avoid large bags or backpacks as storage of these can be a problem.
Drinks should also be in plastic containers, preferably with a screw top and also labelled. No glass bottles, fizzy or hot drinks should be bought.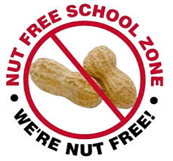 Our school is a NUT FREE site as we do have some children who have severe nut allergies. Please ensure all lunches and snacks provided are nut free.
People who suffer from nut allergies can develop a severe, potentially life-threatening allergic reaction. We do have individuals in our school who suffer from nut allergies and can be affected just from being in the same room as nuts. We did have an incident on the last day of term where an individual had an allergic reaction to nuts and paramedics had to be called to school, luckily the individual has made a full recovery.
If someone has a nut allergy it is not just eating nuts that can cause a severe reaction, just being touched on the skin or smelling the breath of someone who has had nuts or a product containing nuts can trigger anaphylactic shock (which can cause breathing and swallowing difficulties).
First aid staff in the school are trained to use Epi-pens (an injection of adrenalin) which is required immediately if this happens.
We cannot have nuts in school in any form. So please can we ask that you have no nut products in the lunch boxes or brought into the school as treats.
For example:
Peanut butter sandwiches
Nutella or chocolate spread sandwiches
Cereal bars
Some granola bars
Cakes that contain nuts
Biscuits / Cookies that contain nuts
Peanut butter cakes or cookies
Some Asian food, including satay sauces, that contain nuts
This list is not exhaustive, so please check the packaging of products closely.
We appreciate that this is an additional thing to check, and we know that you recognise the importance of it. We have to insist we are a nut free school.
Please note that our lunchtime supervisors cannot force the children to eat all of their lunch however, they will try their very best to encourage your child to eat what you have provided for them.
Our food is provided by a company called School Grid Catered by Dolce. All orders must be placed online by 8.30am on the day you require a meal, using the School Grid login details provided by the school.